YCBC masters swimmer Emma Wills won four medals at the World Masters Swimming Championships 2017 held in Budapest (Hungary). Emma won the 200m, 400m and 800m freestyle in ladies 35-39 years age group. She also picked up a silver medal in the open water event.
Emma started her events with a very choppy open water swim that was reduced in distance from 3km to 2.4km due to the poor conditions. Emma finished 2nd in a strong field of swimmers. The remainder of Emma's swims took place in the pool and as the event followed the main World Swimming Championships, Emma won medals in the same venue as Adam Peaty and other successful British swimmers. Emma triumphed in all three of her pool swims, beating ladies from all over the globe and swimming a personal best time in the 200m freestyle.
Emma's swims are the pinnacle of a highly successful European and British record breaking season and reflect her hard work and dedication. Well done Emma!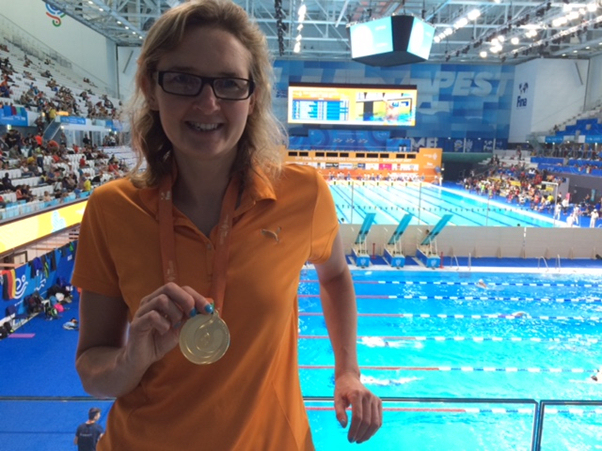 Emma at the Duna Area with one of her gold medals
Emma has really stepped up and improved her training this season and was going into the World Championships in fantastic shape. I was thrilled to see that Emma had produced her best performances at the biggest competition in masters swimming and came away with 4 medals from 4 swims. Emma is still improving each year and she is already looking ahead to breaking more masters records in the near future.
Josh Spencer – Head Coach, York City Baths Club